Announcing the RANZCP's new CEO, Ms Sharon McGowan
The RANZCP is delighted to announce the appointment of Ms Sharon McGowan as our new Chief Executive Officer.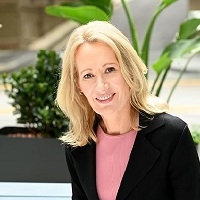 RANZCP President, Associate Professor Vinay Lakra has congratulated Sharon, and warmly welcomed her to the role on behalf of the College's members and staff.
"We are excited by the leadership qualities and experience that Sharon brings to our organisation," Associate Professor Lakra said. "Her passion and expertise will add value to the RANZCP's vision to strive for excellence and equity in the provision of mental healthcare."
An experienced CEO, Sharon is a decisive and energetic leader who builds positive work cultures, as well as strong and collaborative relationships with governments, clinicians, researchers and people with lived experience to drive innovation, influence system change and achieve shared goals.
As CEO of the Stroke Foundation, Sharon championed the world's first 'living clinical guidelines' in stroke. She then leveraged this experience to support the team that established the National COVID-19 Living Evidence Taskforce during the pandemic in response to a void in guidance for clinicians on the front line.
She is a passionate advocate for evidence-based practice and believes that positive health policy change can be achieved through linking research, clinical practice and education with a compelling lived experience voice.
Under Sharon's leadership, the Stroke Foundation was awarded Best Place to Work 2022 by the Voice Project and launched its first Reconciliation Action Plan. As a member of the Australian Stroke Alliance, Sharon was also part of the leadership team which secured $40m, the largest health and medical research grant ever awarded in Australia to develop lightweight portable brain scanning technology. This grant builds on the success of Australia's first Stroke Ambulance which launched in 2017.
As a Senior Executive of Melbourne Health, Sharon played a pivotal role in the safety culture program, introduced an online research grant program and doubled fundraising revenue with the growth of the RMH Home Lottery program.
Commenting on her appointment, Sharon said "while it was a hard decision to leave the Stroke Foundation, the opportunity to work with the College to drive excellence and equity in the provision of mental health seems too important to ignore".
"We are facing a huge increase in demand for mental health services across Australia and New Zealand, in the context of a clinical workforce battling the ongoing impact of a global pandemic and inequitable access to psychiatric treatment, care and support. As the trusted voice for evidence-based mental health, the College is well positioned to further enhance its work with governments, policy makers, the community and stakeholders from across the mental health sector to ensure our health systems and workforce are equipped to respond effectively to this challenge.
"I am excited to be joining this talented and committed team and to building a connected and contemporary College which supports its members to drive better mental health for our communities."
Sharon has worked in Australia and the UK with a range of health, public sector and for-purpose organisations. She holds a Master of Business Administration from Cranfield University (UK), is a graduate of the Australian Institute of Company Directors and has attended Harvard Business School.
Once again, the RANZCP welcomes Sharon to our College. She will commence in her role in February 2023.
More news & views